Stay up to date with the latest climate news from all over the globe:
29th April 2023 Today's Round-Up of Climate News • Climate and Economy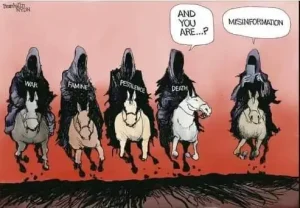 UK Risks
Report by Schumacher Institute and Seeding our Future published February 2023 showing the Risks for the UK.
This new report was commissioned by Seeding our Future and the Schumacher Institute. It is based on online research using the best available forecast data to highlight the specific aspects of eight key risks likely to affect the UK by 2030, and to outline practical responses to these issues. The aim of the report is to guide community leaders and groups, activists and policymakers, to identify priority issues and best response strategies. To download the report click Whatever Next: Risk Review – UK 2030 – Seeding Our Future
Chatham House Cascading Risks Assessment April 2022
IPCC Report Working Group 3: Mitigation
The April report summarised by two climate scientists in less than 8 minutes:
April 2022
The IPCC's latest report on climate change mitigation
IPCC Report February 2022
Here are two excellent summaries of this latest IPCC report:
28th February 2022
The IPCC's latest report on climate change impacts, adaptation and vulnerability delivers "a dire warning about the consequences of inaction" in the face of the climate emergency.
There is no turning back – the world is already facing the devastating consequences of climate change and any further delay in global action will slam shut a narrowing window of opportunity to keep the planet from becoming unliveable, warned scientists in the latest report by the Intergovernmental Panel on Climate Change (IPCC).
See how well your local Council is doing with their Climate Action Plans.  Climate Emergency UK assessed plans according to 28 questions across nine sections, based on the expert-approved checklist for Council Action Plans. Each council was marked against these criteria and given a right to reply before the scores underwent a final audit. This work was completed between June and December 2021.
An excellent summary from Michael Dowd on "The Ten Inevitables" of Collapse.
February 2022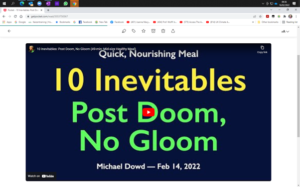 https://www.youtube.com/watch?v=BkapCiU2EUc
A good summary from Professor Rupert Read on the urgent need for Adaptation, Transformative Adaptation and Deep Adaptation.
Climate Breakdown is coming… How to adapt to this new world by working together.
If you like Jonathan Pie, you'll love this!  Warning:  Very sweary.
A short film made by Spanner Films during COP26 in Glasgow.
We at HEART Community Group were proud to part-fund the making of this film (see credits at the end)
A really useful Summary of what was (and wasn't) achieved at Glasgow's COP26
"Blah, Blah, Blah?"
Independent Assessment of UK Climate Risk.  Watch the launch event here:
IPCC report leaked to AFP on 24 June 2021:
The choices societies make now will determine whether our species thrives or simply survives as the 21st century unfolds, the Intergovernmental Panel on Climate Change (IPCC) says in a draft report seen exclusively by AFP.
By far the most comprehensive catalogue ever assembled of how climate change is upending our world, the report reads like a 4,000-page indictment of humanity's stewardship of the planet.
But the document, designed to influence critical policy decisions, is not scheduled for release until February 2022—too late for crunch UN summits this year on climate, biodiversity and food systems, some scientists say.
There is very little good news in the report, but the IPCC stresses that much can be done to avoid worst-case scenarios and prepare for impacts that can no longer be averted, the final takeaway.
Crushing climate impacts to hit sooner than feared: draft UN report (phys.org)
"Trajectories of the Earth System in the Anthropocene", a recent study co-authored by Will Steffen, noted chemist, climate systems analyst, and professor of Earth System Science at Australian National University, warns of catastrophic changes to the Earth climate if current emission trends are not immediately reversed.
This is a valuable and comprehensive collection of resources on Reddit for those who would like to deepen their understanding of societal collapse in all its dimensions.
The need for Adaptation alongside the Sixth Carbon Budget
Summary of the Climate Change Committee's webinar
18th March 2021
Session Chair: Baroness Brown (Chair of CCC Adaptation Committee)
Go here for summary of key messages
https://heartcommunitygroup.org/273277-2/
This event, as part of their Path to Net Zero series, considers the Climate Change Committee's advice on the Sixth Carbon Budget, and delves into the areas where action on adaptation can and should complement steps to reduce UK emissions, resulting in multiple benefits.
'Avoiding a Ghastly Future' by Prof Emeritus Paul Ehrlich
1 May 2021
This is a clear, concise layout from Paul Ehrlich about the many measures of humanity's damage to ecosystems and habitat around the world.
This talk is part of a 2021 conference, Delivering the Human Future. Produced by The Council for the Human Future.
Survey of Security Experts Warns of Potentially Catastrophic Climate Threats in the Next 20 Years
The 2021 Climate Security Risk Perception Survey was administered from February-March 2021 with responses from 57 global climate security experts working on these issues in the fields of defense and intelligence, climate and ecosystem change, and national security.
Climate Impacts: The daily consequences we're choosing to ignore
Just Have Another Think – from April 2021
UN Sec General António Guterres – "The State of the Planet is Broken"
UN Secretary General António Guterres here gives a truly remarkable speech at Columbia University's 'The State of the Planet' event in January 2021. He spoke with such clarity, command of the facts, and compassion, that it is hard to listen to him without feeling in the depth of your heart that the time has come for us all, individually and collectively, to change how we live on Earth, and how we live with one another.
A trip around the world with Robert Hunziger
Exploring abrupt eco-systems collapse happening now  in different parts of the world.
Antarctica – glacier, ice melt, and sea level rise
Australia – runaway warming, & massive bleaching across Great Barrier Reef
Amazon Rainforest – deforestation, climate change, fires, droughts, may already be emitting rather than sequestering carbon
Oceans – acidification, destruction of base of food chain, toxic algal blooms causing massive sea animal death, sea level rise
Greenland – glacier melt, sea level rise
Arctic – now emitting carbon, loss of permafrost, methane and nitrous oxide eruptions, blue-ocean events, loss of albedo effect and jet-stream changes – likely to severely impact agriculture
Highly recommend this interview with Robert Hunziger from December 2020
"Emergency on Planet Earth" Facts
Written by Dr Emily Grossman with the support of the XR Scientists community. Fact-checked and reviewed by a wide range of experts.
Climatologist Wolfgang Knorr
This graph shows that we've been trying to act for a while…  and all our attempts to reform since the Rio Earth Summit in 1992 have coincided with a 60% increase in total greenhouse gas emissions.
It's not working! 
Is Global Collapse Imminent?
Research paper by Graham Turner. The 1972 book Limits to Growth, which predicted our civilisation would probably collapse some time this century, has been criticised as doomsday fantasy since it was published. This research paper has found the book's forecasts are accurate, 40 years on. If we continue to track in line with the book's scenario, expect the early stages of global collapse to start appearing soon.
How does HEART Community Group operate?
We are an unincorporated constituted group.
Here is our Constitution
Here is our GDPR Policy.