Upcoming Events
Events are listed here in date order (most imminent first). Scroll down for later events.
All events are free.  All events are shown in UK time.
 Saturday 17th September 2022
11 am – 1 pm
A 2-hour Webinar and Conversation on Community Resilience, Adaptation and Deep Adaptation
Who is the webinar for?
Anybody who is deeply concerned about climate, overshoot and eco-system and resource depletion, and other interconnected predicaments – and is curious to learn more about what they and their local community could be doing NOW to prepare and adapt for what may be a very different way of life. 
Some of you may be members of Extinction Rebellion, and/or local Transition Town organisations.  You may work in local government, or a community group.  You may be part of the global deep adaptation community.  And it doesn't matter if you're not a member of any organisation!  It's enough if you are a citizen. 
Probably not suitable for children 12 and under.
Register here for your free ticket:
https://HEART-intro-17-Sept.eventbrite.co.uk
 Saturday 1st October 2022
10.30 am – 1.30 pm
Emotional Freedom & Resilience in Turbulent Times
Live in St Albans with Chantal Burns
Who is this for?
If you've been feeling frazzled, overwhelmed or just struggling with feelings about the climate crisis and / or other issues close to home. If you want to reconnect with your resilience, get some peace of mind and helpful new perspectives, and help others with the same, this is for you.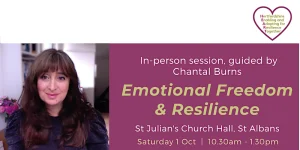 Find out more information or book your place via this link.
https://www.eventbrite.co.uk/e/emotional-freedom-and-resilience-in-turbulent-times-tickets-417646591197
Tuesday 4 October 2022
11 am UK time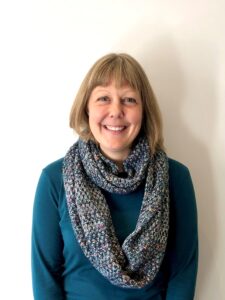 A Conversation with Gemma Hyde
on 20-minute neighbourhoods
The '20-minute Neighbourhood' concept means creating places where most of people's daily needs can be met within a short walk or cycle.
https://www.tcpa.org.uk/the-20-minute-neighbourhood
Multiple benefits include:
being more active
improving mental and physical health
traffic is reduced
air quality improved
local businesses thrive
people see more of their neighbours = community & cooperation strengths
Gemma Hyde is Project and Policy Officer for Healthier Places at the Town and Country Planning Association (TCPA), where she works to support the TCPA's work on reuniting health with planning.
As part of a collaborative project between the TCPA and Sport England, Gemma supports places to create healthy, more active communities including through the 20-Minute Neighbourhood framework. Prior to joining the TCPA Gemma worked for a variety of local government and non-governmental organisations in planning and public health, including the National Childbirth Trust. She is very interested in place-making for babies, toddlers and their caregivers, and is happiest when in Suffolk!
As part of our interview series "Living Well Now".
Register here for your free ticket:
https://HEART-Gemma-Hyde-4-October.eventbrite.co.uk
22 – 25 October 2022
"The Edge"
A 4-day Retreat
Contact Kimberley Hare at kim@heartofthriving.com to be held on a list for future retreats.
Are you somebody who has woken up to the climate and ecological emergency we are facing?
This is a 4-day retreat for people who wish to inquire, in good company, into the question "So, what now?"
As we wake up to the interconnected predicaments facing humanity, this retreat is a way to create a clearing in the dense forest of your life, and uncover your own unique answers to the questions:
"What's mine to do?" and
"How can I make a difference?"
There are no simple blueprints, no one right way, no universal action plans we can follow.
However, we do seem to experience 'nudges' from wisdom, that we can choose to trust and follow. I love to imagine that we are all weaving something together – but there are an infinite number of individual threads – and there are some that may be ours to pick up.
The immersive retreat is an opportunity to deepen your inquiry into what matters most now.
Find out more about this transformative experience here:
The Edge – A 4-day Retreat | HEART Community Group
e-mail kim@heartofthriving.com to register your interest or book a chat to help you decide whether this is a good fit for you.