Upcoming Events
Events are listed here in date order (most imminent first). Scroll down for later events.
All events are free.  All events are shown in UK time.
Wednesday Witness Club
Every other Wednesday starting at 7pm UK time on Zoom for 90 minutes
It can be tough to find places where we can share authentically about what's going on in our hearts and minds at these times.  We often go hungry for the depth of conversation that can be lacking. Many people say that it's like living in two different worlds – the 'normal' world where everybody continues to go about business as usual as though nothing is wrong, and the world that opens up for us as we wake up to the truth of the meta-crisis facing us.
These calls allow us to:
Witness and connect with our emotional responses to the meta-crisis we face
Be alongside others who dare begin to let it in, and to hold a safe space while unpacking how we feel
To explore what might be our own personal 'thread' to pick up – what is ours to do?
This is NOT about climate activism, coming up with plans or strategies – it's less about DOING and more about BEING fully human.  Less about discussion, more about feeling.
How we can support each other to tell the story of our lives – and maybe a story that we can be proud of  – no matter what happens?
Grief (if that is what we are feeling) isn't supposed to be done alone.  If we block or numb our grief – we block our vitality.  We numb our joy.  But however, you're feeling, you will find a warm welcome at these calls.
There is no need to commit to coming each week – just whenever you feel the need to deeply connect with others, and to be fully heard and seen exactly as you are.
Contact kim@heartofthriving.com for how to join.
Spirituality and Activism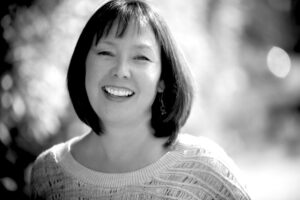 Tuesday, 26th September at 7.30 pm
In this enlightening conversation with Ami Chen Mills Naim, political and social activist, writer and teacher, we will be exploring the following questions:
What is the role of spirituality in climate, ecological and social activism?
What is the importance of joining the dots when it comes to the many different social and political issues we are facing? And how does it benefit and empower us as citizens when we understand the polycrisis in a more joined up way?
How can we lead and create change without burnout?
About Ami
Ami Chen Mills is the host of the radio show and global podcast, "Moment of Truth with Ami Chen Mills" (website coming). She is co-author of State of Mind in the Classroom and author of The Spark Inside: A Special Book for Youth, and currently working on a book about spirituality and political engagement.
Ami also helped found her local Extinction Rebellion in 2019, served on the XR Global Regenerative Cultures working group, to which she brought a 'Three Principles' understanding, and helped to organise her local climate strike of 2019.  She also ran for local office in 2022.
Her father, Dr. Roger Mills, was a pioneer in championing the 'Three Principles Psychology' in at-risk communities and government systems across the US (and internationally). Ami followed in these footsteps as Co-founder and Director of the Centre for Sustainable Change, pursuing this work with major grants from foundations like W.K. Kellogg. This led to many resiliency programmes throughout the United States across many different communities.
She and Chantal (from HEART Community Group) launched the Light on the Horizon YouTube channel to address the climate crisis from a spiritual and psychological perspective in 2019.
Find out more about Ami here:
Register here for your free place:
https://www.eventbrite.co.uk/e/spirituality-and-activism-with-ami-chen-mills-naim-tickets-721153207657?aff=oddtdtcreator
Regenerative Spaces with Alistair Gould
Thursday, 5th October at 11 am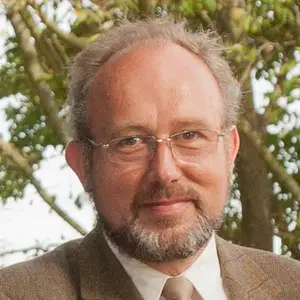 A recent participant in "The Edge" retreat, Alistair has a creative vision for how spaces and places can be regenerated as responses to the climate and ecological emergency.
Alistair will share with us what he and his team have already achieved at Furnace Brook in the High Weald, East Sussex, England where the 20 acres of land and lakes have been reshaped over recent years with a range of regenerative design approaches and elements incorporating rapid prototyping and 'show and tell' models for resilience and sustainable living. 
He will also provide a summary of some emergent partnership working with other landowners and farmers with aligned objectives and intentions.   Finally, he will provide a brief introduction on the  UN's Decade on Ecosystem Restoration (2021-2030) and how grass root connections to the UN's endeavours within this framework are being made for mutual benefit at Furnace Brook and other similar rural land projects.
Register for your free ticket here:
https://www.eventbrite.co.uk/e/regenerative-spaces-a-conversation-with-alistair-gould-tickets-720774344467?aff=oddtdtcreator
"Sustainable Eating Out" with Andrei Lussmann
Founder and Owner of Lussmann's Restaurants
Thursday, 12th October at 11 am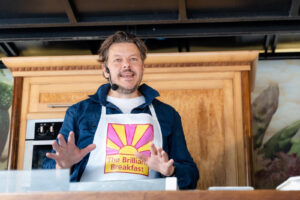 Andrei Lussmann is the founder and managing director of the multi-award-winning Lussmanns Sustainable Kitchen, which is Hertfordshire's most sustainable restaurant group.
Andrei opened his first café in 2002 in Ladbroke Grove and his first fish and grill restaurant in Hertford in 2004. Its success then led on to the opening of three more restaurants in Hertfordshire: St Albans, Harpenden and Hitchin.  
At the end of 2021 Lussmanns Sustainable Kitchen and Garden opened in the pretty canal-side historic market town of Berkhamsted, bringing the total number of restaurants in the group to five.
The partnership of Andrei and his Group Head Chef, Nick McGeown, is a pioneering one: the Group has won multiple national awards celebrating its sustainability, including winning the prestigious MSC Menu of the Year in 2019 and 2020 and the Marie Claire Sustainability Award for Best Sustainable Restaurant Group in the UK 2022. Lussmanns has also been included in The Times 100 Best Places to Eat in the UK. Lussmanns is also a founding member of the Sustainable Restaurant Association.
Andrei is passionate about sustainability and Lussmanns is founded on his fundamental belief that it's possible to be ethical and profitable while making sustainable dining accessible to everyone, and consistently delivering great food, service and value to diners.
Register for your free place here:
https://www.eventbrite.co.uk/e/sustainable-eating-out-a-conversation-with-andrei-lussmann-tickets-720783080597?aff=oddtdtcreator
A Conversation with Rachel Donald, Founder of Planet: Critical
Thursday, 19th October at 10.30 am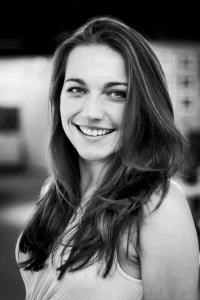 Rachel is the host of a truly brilliant podcast about the polycrisis. Planet: Critical provides a systems perspective on the climate crisis, mapping the energy, economic and political crises. Each episode is a critical interview with the world's best scientists, economists, academics, activists, politicians and journalists battling to save our planet.
"Rachel has an unrivalled capacity for delivering facts and connecting the dots whilst being eloquent, engaging, compassionate, and witty." – Professor Henrik Nordborg, OST
Planet: Critical | Rachel Donald | Substack (planetcritical.com)
Register for your free place here:
https://www.eventbrite.co.uk/e/planet-critical-a-conversation-with-rachel-donald-tickets-721071483217?aff=oddtdtcreator
"The Edge" Retreat
21 – 24 October 2023
THIS RETREAT IS NOW FULL – NEW DATES EARLY 2024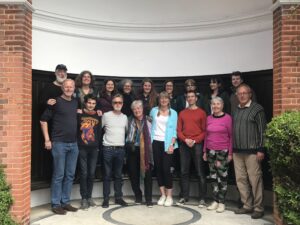 Are you somebody who has woken up to the climate, ecological and meta-crisis we are facing?
This is a 4-day retreat for people who wish to inquire, in good company, into the questions:
So, what's most important now?
What's my 'thread' to pick up? How can I make a difference?
What does it mean to live well now?  How can I tell a story of my life that I'm proud to tell – no matter what happens?
The experience is designed to support you in being able to stand tall and look our interconnected predicaments in the face – from a place of courage, clarity, resilience and creativity.  And to discover what is "Yours to Do".
Find out more here:
https://heartcommunitygroup.org/the-edge-a-4-day-retreat/
Places are limited and this retreat will fill up very soon!
Contact kim@heartofthriving.com to express your interest in reserving a place.
A Conversation with Climate-Scientist-turned-Activist Jen Newall
Wednesday, 1st November 2023, at 7pm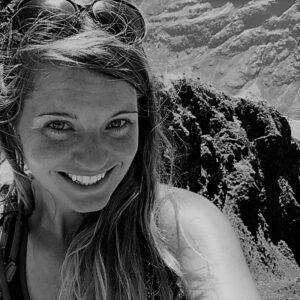 Jen is a young, but wise force of nature who holds a strong, well informed vision of the future we need to build and isn't afraid to speak truth to power. A former climate scientist, she spent almost a decade working at the forefront of climate research. In 2021 Jen left her position at Stockholm University upon realising the science alone was not going to deliver the behavioural and mindset change required to save our species. Since then she has devoted herself to empowering radical climate action at all levels and embracing her creative side to communicate the truth with compassion. She is co-founder of Trees For Birthdays, and earlier this year founded SAÍN (Soulful Adventures In Nature) delivering active mindfulness, resilience building and collective healing through a range of outdoor activities that connect individuals with themselves, each other, nature, and culture. Jen feels extremely grateful to have found her place, and people with the climate majority project. She brings a loving energy to the Climate Majority team and joins Jack and Jadzia in leading CMP Horizons among a few other things.
A proud Scot, at one with nature, there is nothing Jen loves more than being in the wilds of Scotland – especially when that involves mountain biking &/or great company! 
A Conversation with Matthew Green
Wednesday, 15th November 2023 at 11 am
How do we overcome the dilemma of being part of a system/organisation that you know is not serving Life?