Upcoming Events
Events are listed here in date order (most imminent first). Scroll down for later events.
All events are free.  All events are shown in UK time.
Wednesday 25th May 2022
11 am UK time
A Conversation with Phoebe Tickell
Scientist, Facilitator and Systems Thinker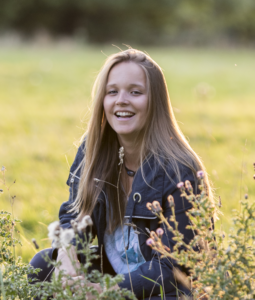 as part of our interview series "Adapting to an Uncertain Future".
Phoebe is a scientist, facilitator, interdisciplinary systems thinker and serial social entrepreneur with a background in molecular biology at Cambridge University and Imperial College London. She blends scientific and artist approaches and has developed new tools and methodologies that create systemic change across institutional innovation organisational design, government, the education sector and regenerative agriculture. She has developed a new curriculum and set of methodologies called Moral Imagining – which connects people to what is truly important to them using creative systems thinking approaches, visioning and group exercises. She holds the following positions: Science Director at Edinburgh University' Planetary Health Lab, Assistant Lecturer at Schumacher College, Advisory Board at International Bateson Institute and Advisor to the Consilience Project. Her mentors include Nora Bateson, Joanna Macy, Fritjof Capra and Stephan Harding.
Register here for your free ticket:
https://www.eventbrite.co.uk/e/adapting-for-an-uncertain-future-a-conversation-with-phoebe-tickell-tickets-293709863107
Adapting to an Uncertain Future:
A conversation with Phoebe Tickell Tickets, Thu 12 May 2022 at 11:00 | Eventbrite
Saturday 28 May 2022
FREE 2-HOUR WEBINAR
11 am – 1 pm
INTRODUCING HEART COMMUNITY GROUP:
RESILIENCE, ADAPTATION & DEEP ADAPTATION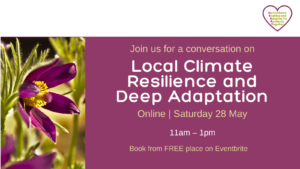 This conversation is for anybody who is deeply concerned about the climate and other interconnected predicaments – and is curious to learn more about what they and their local community could be doing NOW to prepare and adapt for what may be a very different way of life.
Some of you may be members of Extinction Rebellion, and/or local Transition Town organisations. You may work in local government, or a community group. And it doesn't matter if you're not a member of any organisation! It's enough if you are a citizen.
Even for those of us who are awake to the emergency, the conclusions from the latest science force us to go beyond our usual narratives about the planetary predicaments we face. If we're able to face the situation honestly, we no longer have time for a gentle and gradual transition.
We are a group of Hertfordshire residents who accept that extreme disruption, and possibly even societal collapse is likely or inevitable in our lifetimes, or is already occurring. We are committed to contributing to local community resilience, both practically and emotionally. We seek to inform and support local leaders in political and local community organisations, and encourage them to be curious and open minded about collapse and its implications.
We're all about responding lovingly to our predicaments, and telling the truth.
Register here for your free ticket:
https://introducing-heart-may-28.eventbrite.co.uk
We look forward to connecting with you!
Wednesday 1 June 2022
2.30 pm UK time
A Conversation with Briony Greenhill
as part of our interview series "Living Well Now"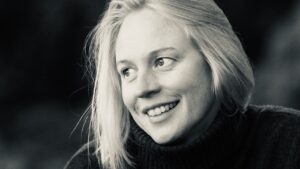 Briony Greenhill is a folk/soul/jazz improvisational artist and teacher. Her values rest in earth-based spirituality, regenerative culture and natural health, and her teaching has therapeutic and healing aspects.
"One of the world's leading proponents of collaborative vocal improvisation (CVI)" – The Guardian
"Like Marvin Gaye crossed with a funky earth Mother" – Mojo
Register here for your free ticket:
https://www.eventbrite.co.uk/e/living-well-now-a-conversation-with-briony-greenhill-tickets-323906411797
Wednesday 15 June 2022
11 am UK time
A Conversation with Manda Scott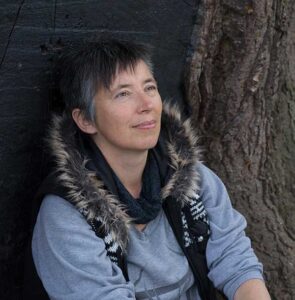 Manda is a writer with a powerful vision.
As the co-creator of Accidental Gods, Manda explores the liminal space between science and spirituality, philosophy and politics, art, and creativity – working towards the conscious evolution of humanity…
She believes that the evolution of consciousness is possible – and that the time is now.  Nothing is more urgent.  The Accidental Gods podcast aims to provide all the tools we could ever need to understand the potential of this moment – and ourselves within it.
In a world where ideas grow faster than anything, we curate the cutting edge of neuroscience and psycho-technologies, connected spirituality and resilience, politics, philosophy and human creativity so that – together – we can choose a different future.  She is also the creator of Thrutopia – a masterclass for writers and aspiring writers in all media.  "Writing our way to a future we'd be proud to leave to the coming generations".
As part of our interview series "Living Well Now".
Register here for your free ticket:
https://www.eventbrite.co.uk/e/living-well-now-a-conversation-with-manda-scott-tickets-323908698637
Saturday 25 June 2022
1230 pm – 5 pm
LIVE EVENT
What do we need now to create a better future – locally?
Creating a Community-Resilient Future Now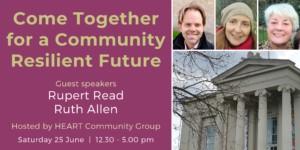 Special Guest Speaker: Prof  Rupert Read, Author, Campaigner and Strategist
Plus expert guest panellists
St Albans Museum + Gallery
Saturday 25th June  12.30pm – 5pm
We are facing the biggest threat humanity has ever faced.  The climate emergency is here, now, and is going to affect every aspect of our lives. Business as usual is no longer possible.
"The scientific evidence is unequivocal: climate change is a threat to human wellbeing and the health of the planet. Any further delay in concerted global action will miss a brief and rapidly closing window to secure a liveable future,"
Antonio Guterres, UN Secretary-General, April 2022
Is this you? 
  You recognise our world is on the brink of huge change and you want to be part of a local resilient community
  You want to make a difference, but you sometimes feel overwhelmed or not really sure where to start
  You don't want to block a refinery or glue yourself to a bank – but you realise that simply giving a few quid to a green charity is no longer enough
  You care deeply about the devastation of the natural world, and you worry that your children and grandchildren will inherit a dying world.  You want to help shape something better than this
We face an enormous challenge 
– and the only way to navigate it is TOGETHER.
We can all play our part and live well now, as resilient communities.
Come and listen to Prof Rupert Read and other experts share an inspiring vision for how we can adapt to a changing world.
Join the conversation and share your views.  Explore themes that matter to you and come away energised and clear about how you can be part of shaping our future now.
Join us and be part of the Race for Resilience as well as the Race for Net Zero.
"Never doubt that a small group of thoughtful, committed citizens can change the world; indeed, it's the only thing that ever has." Margaret Mead
Don't miss out.  Book your place now via this link
Register here for your free ticket:
https://community-resilient-future.eventbrite.co.uk
A Conversation with Jamie Quince Starkey of
Down to Earth Derby, Catalyst for Nature-Based Regeneration
12 noon
27 July 2022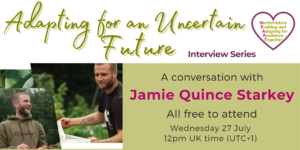 Down to Earth Derby has always been about more than just showing people how to grow food; they get people outdoors, reconnect them back with nature, with their community and themselves.
"The Down to Earth Project is an idea born out of conflict; the conflict of living life in the modern-day and the realisation of the negative impact we have on this planet."
The challenge is making a difference whilst also being realistic and having an understanding of how life is for the average person; I know we can't just jump ship and move to an off-grid community (imagine if the problem was that simple)!
The issues we face are a symptom of a much bigger problem; that problem being our (humans) disconnection with nature.
Register here for your free ticket to join this conversation:
https://www.eventbrite.co.uk/e/adapting-for-an-uncertain-future-a-conversation-with-jamie-quince-starkey-tickets-343090712557
"The Edge"
A 4-day Retreat
Contact Kimberley Hare at kim@heartofthriving.com to be held on a list for future retreats.
Are you somebody who has woken up to the climate and ecological emergency we are facing?
This is a 4-day retreat for people who wish to inquire, in good company, into the question "So, what now?"
As we wake up to the interconnected predicaments facing humanity, this retreat is a way to create a clearing in the dense forest of your life, and uncover your own unique answers to the questions:
"What's mine to do?" and
"How can I make a difference?"
There are no simple blueprints, no one right way, no universal action plans we can follow.
However, we do seem to experience 'nudges' from wisdom, that we can choose to trust and follow. I love to imagine that we are all weaving something together – but there are an infinite number of individual threads – and there are some that may be ours to pick up.
The immersive retreat is an opportunity to deepen your inquiry into what matters most now.
Find out more about this transformative experience here:
https://www.heartofthriving.com/event/the-edge-2/
e-mail kim@heartofthriving.com to register your interest or book a chat to help you decide whether this is a good fit for you.