Hello to our Community!
HEART Community Group Newsletter #8 (July – October 2023)
We're changing….

We believe it's important that each one of us finds what is 'ours to do' as we face the meta-crisis unfolding around us. And the shape this takes will evolve and change over time. The core team of HEART Community Group have therefore agreed the following:
Firstly, we are changing the HEART acronym from: Hertfordshire Enabling and Adapting forResilience Together
to
Humans Enabling and Adapting with Resilience Together
So, it's still spells HEART, but with a wider focus.
Hertfordshire is both too big and too small!  Too big to wrap our arms around entirely, but too small to include the many 100's of people who we can and are supporting and serving who don't happen to live in this corner of the South East of England.
Secondly, we are now clearer than ever that the people we can best serve are those who are already awake to the meta-crisis and are collapse-aware. This means we are stopping all activities that involve engaging with people who are further back in their journey of understanding and acceptance.  There are already many organisations and groups doing that kind of work – what we call 'Column 2' work, or 'Business asUsual – but Greener'.
If you're unfamiliar with the 4 Columns you can find out more here: https://heartcommunitygroup.org/which-column-are-you-in/
It's just not what we're about. We want to focus on supporting collapse-aware communities and individuals to find the courage to face reality and stand tall with resilience and compassion. These people are still a minority in the UK – but numbers are growing daily.
Thirdly, Kate Swindells will be stepping down from her role in the core team, and her official role as Community Group Treasurer. Kate is still very supportive of what we do – but her personal thread is now very much hyper-local community resilience building in St Albans.  This includes her community garden project, and Sopwell Eco-Stars.
The Edge Retreat Autumn 2023
We hosted another 4-day Edge Retreat this month, which was more magical and transformative than ever. Professor Rupert Read joined us for part of it as a guest facilitator.This retreat has the twin aims of:
Helping people stand tall and look our predicament in the face with resilience, courage and love, and
Supporting people to answer the question:"What is Mine to Do? – and who can I do it with?"
The next retreat will be offered (free of charge) during Quarter 1 of 2024.  Keep an eye on our website for dates when these are finalised.
"I came to the Edge not knowing what to do next to fight the paralysing overwhelm that is the "cluster-fuck" of the metacrisis – hoping that my feelings of guilt & helplessness and not doing or being enough would be transformed in some way.  Four days later… it's almost impossible to put into words what a profound experience the Edge is!  Wow, wow, wow!!! I leave re-connected with my trust in my wise self to cope with the unknown that is coming and to find my place in the world now – which is rooted in joy. In the process I felt truly supported, known, accepted and understood – held in a safe, joyful, rich,creative, loving place that felt like coming home.  More than anything, I have found my huge love of humanity and gratitude for our beautiful Earth is welling up in me again". Fiona Harding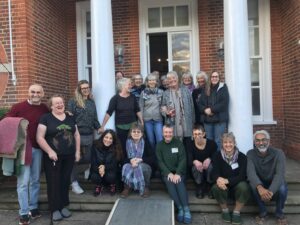 CONVERSATIONS RECORDED THIS QUARTER
We're delighted to have hosted several fascinating conversations and webinars over the past few months.  Ranging through different themes, including the practical, the spiritual, the systemic and the emotional –and introducing you to people who are living what is 'theirs to do' out in theworld. If you missed them, you can watch the recordings on our YouTube Channel– links provided below.
Conversation with Meghan O'Neill of"The Week"
https://www.youtube.com/watch?v=3UXfqY0FzEI
The Week's mission is to mobilise "the broad middle" in Europe and in the US – the vast majority of the population who is aware of the climate crisis to a certain degree, but have not yet taken action or gotten engaged. The Week is a tool to create space for courageous conversations about the climate among friends,students,colleagues, neighbours, or communities. By focusing on what's likely to happen to us, and the people we love, over the next 10 to 20 years, The Week empowers groups with the energy, hope, and concrete next steps to act for the climate.
A Conversation with Joolz Thompson of Community Climate Action
https://www.youtube.com/watch?v=Ht0zrCwEkV0
An inspiring conversation where Joolz shares what he and his team have been doing with their local community in East Anglia- creating real engagement and participative democracy to tackle climate change from the ground up.
A Conversation with Ruth Clarke, Teenage Climate Activist
https://www.youtube.com/watch?v=tfNS6aEcEkA
Ruth is an inspiring 16 year-old, and spoke about her concerns about the future, as well as what she is doing, with friends from school, to make a difference.
A Conversation with Bel Jacobs on Sustainable Fashion
https://www.youtube.com/watch?v=jeFqy0bTzKk
Bel Jacobs is a former fashion editor turned speaker, writer and campaigner on climate justice,animal rights and alternative systems in fashion. She is founder of Fashion in Schools, speaking with secondary school pupils about the impact of the fashion industry and different ways to engage creatively with fashion; co-founder of Fashion Act Now, a campaign group standing against the industrialised fashion system; founder of The Empathy Project, an online platform seeking to heal the broken relationship between humans and animals; and co-founder of The Islington Climate Centre, a hub for social and environmental groups in North London.
The Role of Spirituality in Climate and Social Activism
https://www.youtube.com/watch?v=prvoOtWtWW8
In this conversation with Ami Chen Mills Naim, political and social activist, writer and teacher, we explored the following questions:
What is the role of spirituality in climate, ecological and social activism?
What is the importance of joining the dots when it comes to the many different social and political issues we are facing?  And how does it benefit and empower us as citizens when we understand the polycrisis in a more joined up way?
How can we lead and create change without burnout?
A Conversation with Alistair Gould on Regenerative Places and Spaces
https://www.youtube.com/watch?v=o700CxlyddQ
A recent participant in "The Edge" retreat, Alistair Gould has a creative vision for how spaces and places can be regenerated as responses to the climate and ecological emergency.
Alistair shared with us what he and his team have already achieved at Furnace Brook in the High Weald, East Sussex, England where the 20 acres of land and lakes have been reshaped over recent years with a range of regenerative design approaches and elements incorporating rapid prototyping and 'show and tell' models for resilience and sustainable living.
A Conversation on "Sustainable Eating Out" with Andrei Lussmann
https://www.youtube.com/watch?v=FoLCzQlMX-E
A conversation with Founder and Owner of Lussmann's Restaurants – well known to Hertfordshire residents. Andrei is passionate about making eating out truly sustainable and ethical.
A Conversation with Rachel Donald, Founder of Planet: Critical.
https://www.youtube.com/watch?v=XvuXs_ZZ9OM&t=1232s
Rachel is the host of a truly brilliant podcast about the polycrisis. Planet: Critical provides a systems perspective on the climate crisis, mapping the energy, economic and political crises. Each episode is a critical interview with the world's best scientists, economists, academics, activists, politicians and journalists battling to save our planet.
Support
Do reach out if we can support you:
Email:          heartcommunitygroup@gmail.com
Website:       www.heartcommunitygroup.org
Tel:               01923 262278
Sending love from the team
HEART Community Group